The Advitech Group has long been established in the Hunter as a trusted collaboration of specialised engineering, environmental and technical sciences companies. For over 30 years the Group has been delivering innovative solutions to complex challenges across a range of sectors including resources, manufacturing, agriculture and defence.
Acubis Technologies Pty Limited has been a proud member of the Advitech Group since 2013.
The Advitech Group has grown and evolved, and over time its member companies have developed their own unique identities. To reflect this evolution yet continue to present as a unified team of companies, the Advitech Group has changed its name to Emergent Group.
The name 'Emergent Group' derives from the phenomenon of 'emergence'. In philosophy, systems theory, science and art, 'emergence' occurs when an entity is observed to have properties its parts do not have on their own. Such properties or behaviours emerge only when the parts interact in a wider whole.
Naming our business 'Emergent Group' acknowledges that we see the environment in which we operate as a complex ecosystem of interactions – between staff, clients, government and broader society. We value these interactions and the resulting web of events and outcomes that lead to new possibilities.
Our engineers, scientists, designers, analysts, technicians and systems specialists offer a strategic blend of skills, experience, connections and agility to deliver innovative solutions for businesses and government.
Emergent Group consists of
Advitech Pty Limited – Engineering and Environmental Consulting
Novecom Pty Limited – Monitoring, Sensors and IoT
Acubis Technologies Pty Limited – Remote Communications
Simulation Modelling Services (SMS) Pty Ltd – Modelling scenarios to inform decisions
Watch a video on the launch of our new brand on the Emergent Group website or on YouTube.
Contact us to find out how we can help you harness the power of emergence for effective solutions to your biggest challenges.
New visual identity explained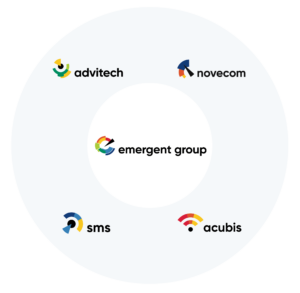 Emergent Group
The motif for the Emergent Group logo is representative of the concept of 'Emergent Theory' whereby all the individual moving parts come together and interact to work as a collective whole. The motif establishes Emergent Group as the supporting central nexus between its portfolio of brands with the individual segments forming to create the letter 'e' for the word 'Emergent'.
Advitech
The motif for the Advitech logo utilises segments to form the shape of a lightbulb casting balanced beams of light. It represents concepts of focused thinking, logic and ideation. The use of colours demonstrate Advitech's consideration of environment and sustainable outcomes.
Novecom
The motif for the Novecom logo utilises segments to form the shape of an informational data dial representative of the system's integration and organisational intelligence business function.
Acubis
The motif for the Acubis logo utilises segments to form the shape of a communications signal.
SMS
The motif for the SMS logo utilises segments to form the shape of an eye to represent the ability to visualise contextual modelling applications.